Access Storage - Morrow
72 Morrow Drive, Barrie, ON
1ST 4 WEEKS FREE *
Photos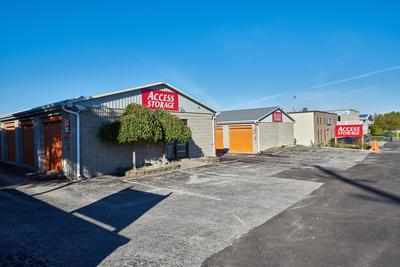 Hours
Office Hours

| | |
| --- | --- |
| Mon-Fri | 9am to 6pm |
| Sat | 9:00am to 5:00pm |
| Sun | Closed |
Access Hours

| | |
| --- | --- |
| Daily | 6am - 10pm |
About Access Storage - Morrow
We are Canada's  #1 storage company and have the metal to back it up, winning numerous service awards such as the Consumers Choice Award for the best storage company. No matter what your storage needs or how long you will be renting, Access is the perfect storage solution. 

Most of our facilities offer 1st 4 WEEKS FREE or FREE MOVE IN VAN. Call now for details!
* 1st 4 weeks free - subject to availability
Features
Drive-up Access
24/7 Security Monitoring
Parcel Delivery Acceptance
Packing Supplies
Dollies & Carts Available
Payment Options
Vehicle Storage
"Self Serve" Kiosk
Hours
Office Hours

| | |
| --- | --- |
| Mon-Fri | 9am to 6pm |
| Sat | 9:00am to 5:00pm |
| Sun | Closed |
Access Hours

| | |
| --- | --- |
| Daily | 6am - 10pm |
Facility Reviews
---
I have had a storage unit at this location for my sick mother since September of 2021. When we moved her in the rates were fine and all was good. The location was easily accessible and there were cameras on site to ensure the safety of her belongings. I got an email in January stating that the rate was going up which I was unhappy with, but understood. Friday of last week I got a call asking if we would like to purchase insurance on the unit and I said I would have to speak to my mother and see what she wanted to do. Ironically Monday morning I received another call from access storage stating that there was no lock on the door of our unit and that it seemed someone had broken into it. When we asked about the cameras they stated that they don't work and have never worked. It seems pretty suspicious of them to have offered us insurance Friday and all of a sudden something happened over the weekend and half of her belongings were either stolen or broken. They have done nothing to compensate for the loss and left it at "file a police report". I absolutely would not for a second recommend to store anything with this company. 10/10 worst customer service.
---
I was not really happy about the dealing with people there. It was overestimated price for products. Quality was so bad, most of stuff was damaged and taken parts. And suppose you are getting a deal for a palete you cannot upload it once, next day you find rubbish that you will never able to sell. No integrity or honesty and in an abbreviated phrase not recommended to deal with them.
---
Good experience overall. You do have to check in at office on caplan but the staff was good and the unit was clean. It was what I was looking for.
---
Horrible doesn't even begin to describe these units. Over priced with no security at all. They claim to have cameras but when your unit is broken into, which is way to common the cameras "no longer work" clearly false advertisement about being a secure facility. The staff is friendly but doesn't care about your belongings and provides you with a "your problem not ours" when damage is done to your unit or belongings are stolen. The only use for this place is dumping garbage and should probably be ripped down. Whatever you do DO NOT RENT A UNIT with this company! Be warned!
---
Great experience, nice property